Houdini Stop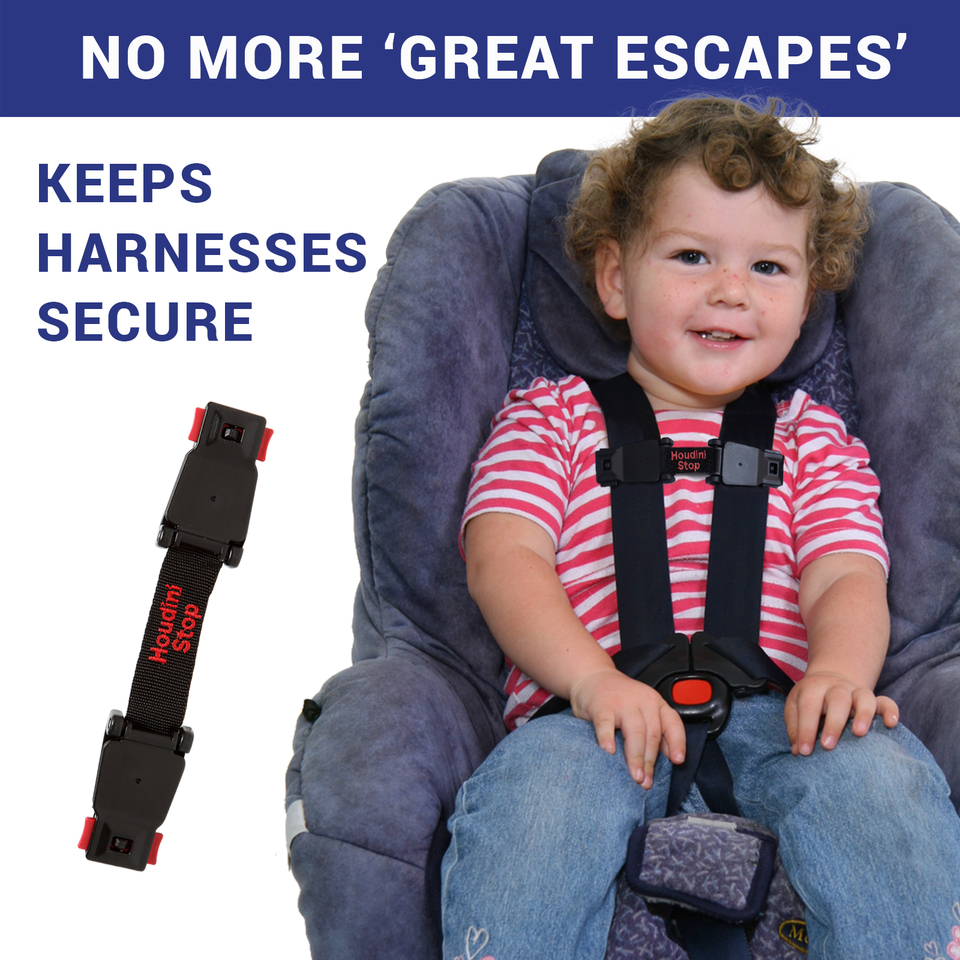 Your harness sanity saver. Keeps your Houdini safe and secure within their existing harnesses. No more climbing out of the carseat, high chair or stroller harness. No more unnecessary falls
This is the original, officially AS/NZS standards crash tested Houdini Stop chest clip.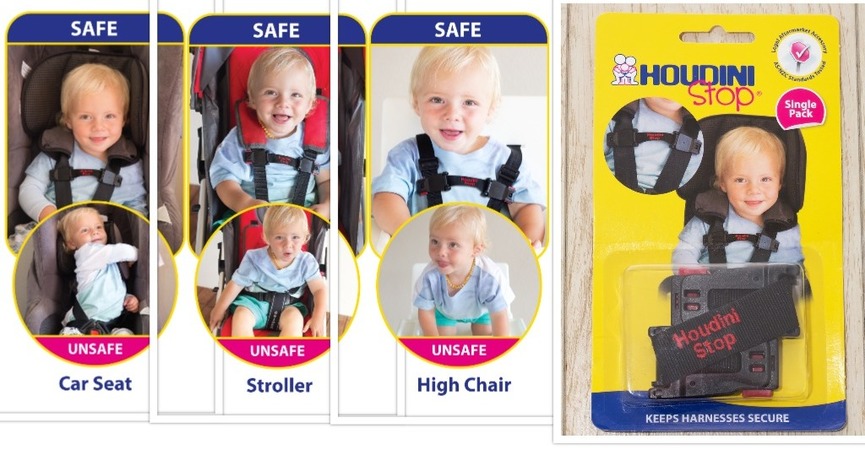 What is a Houdini Stop. How does it work? Click on the link to see the video below
Instructional Video Link: Click here to view


Safety Information:
Please contact the team at Houdini Solutions Limited if you need any further safety information. The Houdini Stop is a legal aftermarket accessory. It is not illegal to add this to your carseat harness. It has been crash tested at an official crash testing facility, proven to be safe in an accident situation. The testing found the Houdini Stop product to comply with the AS/NZS Standards 1754:2004 and 8005:2013. The Houdini Stop is not a restraint. It holds the existing harnesses straps in their correct position and prevents your child from removing their arms from it. Once your child has stopped doing this dangerous practice, please stop using the Houdini Stop
Suitable for mainly 12 - 36 month old children. Fits most harnesses up to 38mm wide.
The Houdini Stop has been tested only in Type B, forward facing crash tests so it is impossible for us to say 100% what the result would be in a rear facing situation. In the forward facing tests the Houdini Stop tested extremely well. It broke on impact, it did not damage the harness and it did not rise up and cause a choking hazard.
I do know 100% without any testing, that a child not fully restrained with in their car seat will be at very high risk of serious injury or death in an accident, whether they are forward facing or rear facing.
It is actually the car seat harnesses job to keep the child safely inside the car seat. The Houdini Stop merely is a product you can add to ensure the child does not pull the harness straps aside and remove its arms. If you child is removing their arms and you are not happy to use a Houdini Stop for a short while as a deterrent, you will have to look at replacing your car seat as it is very important that the car seat keeps your child fully restrained.
Please look into your options and speak with a Car Seat technician to discuss your options ASAP as not having your child fully restrained is dangerous.
Dear Bianca
I probably have one of the best reviews for you.
On Sunday we had a horrific car accident which involved our car flipping upside down. Our near two year old, however, was completely safe. In fact he had not moved in his car seat and had no injuries other than minor scrapes from the seat belt. I have no doubt that your Houdini stop saved him. He constantly undid his straps prior to having this item in place and would have possibly been unstrapped at the time of the accident without us knowing previously. My husband Ryan wanted to let you know that the Houdini strap was easy to unclip after the incident, much easier than the actual car seat.
So we thank you for this wonderful invention!
Kind regards
Katey Thorn - NZ - 15 November 2017
"Imagine my horror when, out of the blue, my two-year-old figured out how to wriggle her arms out of her car seat straps, lean forward and open the car door while we were driving. After closing the door, I swiftly hit the kiddie lock button, but she continued to wriggle out of her straps. A friend recommended Houdini Stop - it arrived quickly (and with a little sweet treat!) and has put an end to Miss Houdini's car seat tricks. Relief!"
- Adele Thurlow, NZ - May 2016
I just saw your campaign along with the police giving away your houdini car seat clips - how incredibly generous and kind of you! I used one of these clips for my second child and have ensured both my granddaughters have these to keep them safe on their travels. Such a simple yet effective product you have that gives me (and I'm sure all parents and grandparents) peace of mind. Wonderful product! – Juno Bug, NZ – May 2016