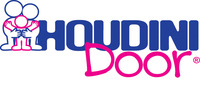 Do you have a young child that constantly comes out of their room at bedtime? Do you want to keep your child out of another room? Want to stop that bedtime nightly visitor?
Here's your solution!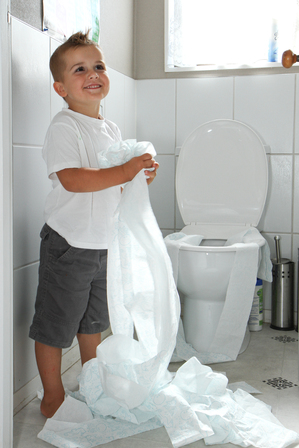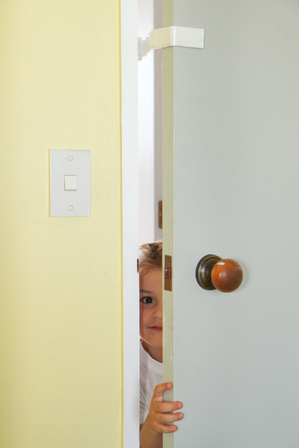 What is a Houdini Door?
A houdini door is a devise that you fit to your door frame. It firmly holds a 35mm or 37mm door firmly at a set distance. The hall light can still get in, but your small child can not get out or move the door forward or backwards. It is the perfect tool for that frustrating cot to bed transition when your child constantly comes out of their room
How to install a Houdini Door
Testimonials
Nyssa Condon. 26 March 2013. Russia
If you have any issues keeping your youngster in their room at bed time, may I highly recommend this wonderful product. You don't even have to install it! Our four year old had been struggling with staying in his bed at the end of our nightly routine. A friend suggested the Houdini door. I explained to our four year old how it worked and that it was there to help him stay in his room and sleep. I had run out of time that day to install the Houdini and our four-year-old, at bed time, asked that I not put it on the door. I advised him that if he stayed in his bed and went to sleep we would not need to use it. He has been staying and his bed and sleeping through every night since! Thank you so much Houdini Door!
Megan Pace. 28 March 2013. New Zealand
The Houdini door has allowed my husband and I to sleep in peace. Our 3 year old had a habit of getting into the kitchen at night and eating everything in sight, once we had the Houdini door on she no longer could get into the kitchen allowing us, and her, to sleep in peace. Easy to use, easy to install, this is one product I honestly could not live without! If you are wanting to child proof this is one product you really cant surpass!
MarBev 4 April 2013
I think the houdini door is fantastic! It is great at keeping my little one in her bedroom when it is time to go to sleep, and stay in the bedroom as told. I also have a wee baby and during the day we use it on that door to keep my 3 and nearly 2 yr old out of the baby room yet still being able to get airflow through and I can hear if she is crying and needs something, A wonderful product, just what we were after. Thankyou
Melissa 9th April 2013
After many many months of misery (mine) and an over tired toddler who refused to stay in his room and kept waking the other kids, we had success with this on the first night! 3 nights on, and the threat of it is enough to make him go to sleep straight away! Last night he was asleep by 7pm, instead of the usual 10pm.It is such a great design, and so simple to use. I like how the door isn't shut, so he doesn't feel locked in, and I can also see what he is up to in there! Once again, thanks so much, I will definitely be recommending this to others!